---
Conducting the access requirements training of circulation field with Zhuoshang apparel (Hangzhou) Co., Ltd
---
On the morning of August 28, a lively training meeting "the access requirements and strategies of the circulation field for garment product" was held in Zhuoshang apparel (Hangzhou) Co. Ltd. This meeting was hosted by Niu Shuye, the manager of Zhuoshang quality management department, Ji Yuwen, the director of quality management department delivered the speech, and Liu Xiaojun, the deputy general manager of QIT Testing as the main lecturer. 3COLOUR、LEISURE、ULLU、IBUDU and the e-commerce department of Zhuoshang attended the training.
At the beginning, Ji Yuwen welcomed the QIT, and thanked the technical support provided by OIT Testing for many years, especially in the fabric product standards as well as establishing internal control laboratory. Finally, she wished a long-term friendly cooperation with QIT Testing.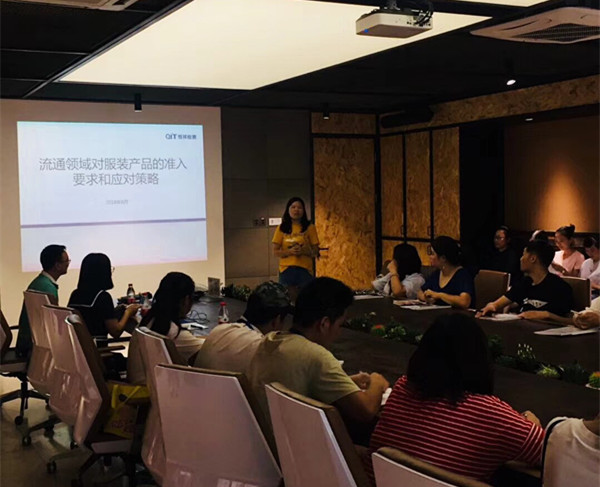 At the training site, Liu Xiaojun interpreted several issues including the access requirements of circulation field, industry and commerce inspection, professional fake-against, quality appeal of customers, brand charming improved. In addition, Liu discussed the problems with conferee. During the training, we can feel the positive and enthusiastic attitude, also the rigorous and pragmatic work style. After the training, conferee of Zhuoshang expressed the great benefits, and hoped QIT could come to their company to carry out training, they can discuss and learn from each other.
In order to learn and progress with our company, achieve our customers' quality requirements for brand, QIT Testing will organize training regularly, to actively meet the needs of enterprises, do a good job in quality control, provide a comprehensive guarantee for the quality and safety of the company.